It's still winter. Seventy (70!) cm of snow have fallen on me and my city since the beginning of February and my whole rant about how I wanted the weather to decide between Spring and Winter and not switch rapidly between the two has given me what I wanted. Damned fates.
(This is before the snow we got on Monday, that snow bank would be higher than the van's license plate now).
I will say that it is very pretty (even though it's hard to walk) and the kids love it and are playing outside every night (even though someone "accidentally" took home Emma's snowpants from daycare and have not returned them and it is IMPOSSIBLE to find snowpants in Canada in February) and it is still sweater weather (though I never have time to knit).
Prettiness at U of T (Brainy and I had lunch on those benches this summer)
The bad part about Winter is that I don't ride my bike to work (I don't care what you tell me, I'm not riding on snowy roads with cars) and I have to suffer my commute on the Toronto Transit Commission subways.
I'm a huge advocate for public transit. It keeps some of the cars off the roads and out of the way when I ride my bike, it's good for the environment and it is economical compared to car ownership and parking. However, in the last year I've noticed that either ridership has gone up and/or service frequency has gone down and the subway cars (and buses and streetcars) are always jammed packed with people. Packed with annoying people who think they deserve personal space or who don't actually move into the middle of the car, but clog up the doors and don't take kindly to me forcing my way in by using my training as a rugby player and generally pushy broad.
Forgive me, but I NEED to say this.
Walk into the middle of the fucking car for fuck's sake so those of use who get on after you have some fucking room to get in. Don't hang out in the door. Don't tell me I'm a bitch for pushing you in further or pushing past you to get into the middle. Don't think you can do a sudoko or your mascara and that your fare provides you with a meter wide perimeter around your body. Shove in and suck it up and share the fucking car with the rest of us on the platform.
Now that I have that off my chest, I should start with tale two: a funny thing I saw on this morning's commute to work. It looked like a run of the mill subway ad, until I read the copy.
When Amy started thinking for herself, we had to nip it in the bud with Obay

From the makers of WhyBecauseISaidYouShould
There was no website, no company name, nothing. Funny.
With my curiousity in all things popular culture piqued, I did some googling when I got to work and found very little. Here's another ad: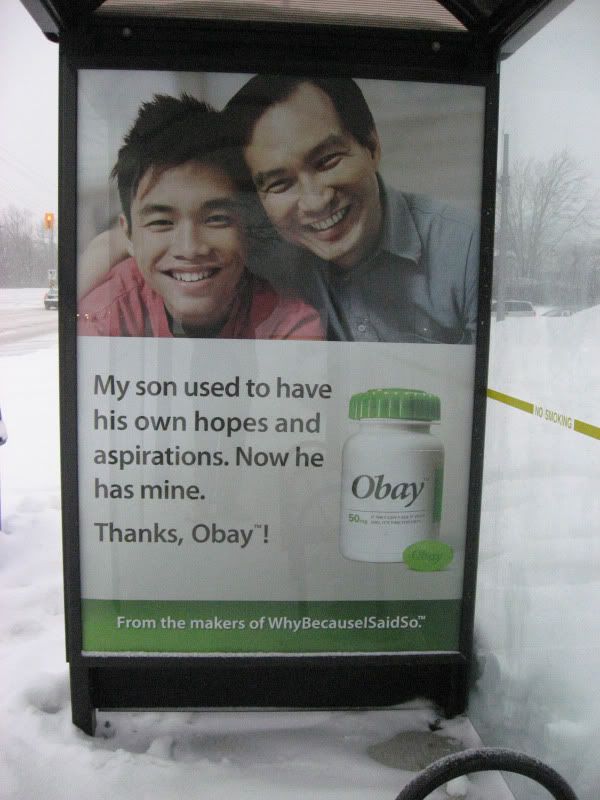 From the few things I found, it appears that these ads are on public transit spaces only in Canada and there is no web presence for the campaign.
Curiouser.
~
For background/context, in Canada it is illegal to advertise prescription drugs in any way including media ads, free mugs and pencils and prescription pads, inducements for physicians etc. This is VERY different from the US where it seems like every second there is a new drug ad in your face. There is a collection of academic research which shows that advertising does change both patient requests and doctors' behaviours in the prescribing of drugs so the ban on advertising makes some sense (I should also note that Canada and the US have different perspectives on the notions of "free speech" within which this advertising ban, while challenged by big pharma, is not a violation of Canadian laws).
However, there have been a number of ads popping up which mention a drug but do not make any reference to what the drug is for or make any health claims. They say things like: "Ask your doctor about Celebrex" or "This girl is Flalesse" and bank on consumer awareness that you'll know the first is for arthritis and the second is the Pill. They are trying to work around the ban and my understanding is that they're succeeding. And people are complaining.
This Canadian context makes "Obay" much more interesting. Is it a comment on the "pill for every ill" society we live in? The idea that we feel that certain social behaviours require a medical behaviour (social anxiety disorder anyone?) Or is it a test of the advertising laws? Or a flashy way for an ad company to show off its talents?
I'm not sure, but I decided to add to the very small web discussion and essentially play the game I think the ad is asking me to join. They want to create some sort of buzz (and since transit ads aren't cheap, this is not a minor investment) and I want to see where it goes.
If you're out and about and see any of these ads, feel free to pass them along. I probably wouldn't have played if they weren't so clever. They remind me of this "campaign" (be warned there is music on the site) which is part satire and part "give me money", but is also a great culture jam.