I took a spinning class with Jacey Boggs Faulkner at Rhinebeck.  My first class since learning to spin.  It was a nice way to kick myself back into spinning and during the class I realized I wanted a better Lazy Kate, as mine are both fine, but not all that great.
My preference is for an angled Kate, something compact as space is limited and I would like to take it with me if I go on spinning adventures. Pretty is also important--nice tools make for nice experiences.
Here's what's made the short list.  I would love recommendations, comments on my choices, suggestions etc.  
Love the look of this one and that all the pieces go into the case.  It's also beautiful and the most expensive.  I like that it holds 4 bobbins (not that I've ever made 4-ply, but I might want to some day).
Simple design, nice looking and would do the trick.  Downsides are the weight (it would cost a mint in shipping) and it's not portable.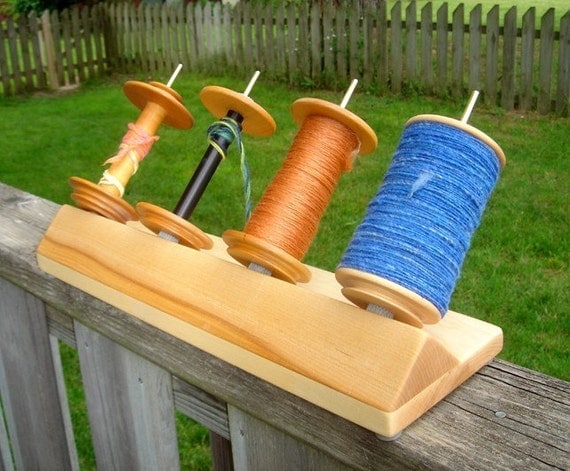 Smaller than the TravelKate, similar design but not as pretty.  I read one review that notes it bounces a bit due to the fold-back design.  Price point is good.  Like how everything folds away for storage.
I'm also looking at the Anything But Lazy Kate but think it's too big and fiddly.  There are too many options and pieces.  I like compact and simple.  If you love this one, and I'm mistaken, let me know.
If I could find a Will Taylor Clever Kate--I would buy it.  Not as flat as the others, but it comes highly recommended.  I'm told he retired.
Any other Kates I'm missing?  I'm also considering making one myself, but it definitely won't be as pretty as any of these.
---